YYYYMMDD >>> BACK HOME <<< >>> SELECTED FEATURES <<< >>> HIDDEN ARCHIVE <<<

"I think you should know" is a collaboration between @gallerytalknet and @yyyymmdd_contemporary



YYYYMMDD THINKS YOU SHOULD KNOW
JAKOB LENA KNEBL: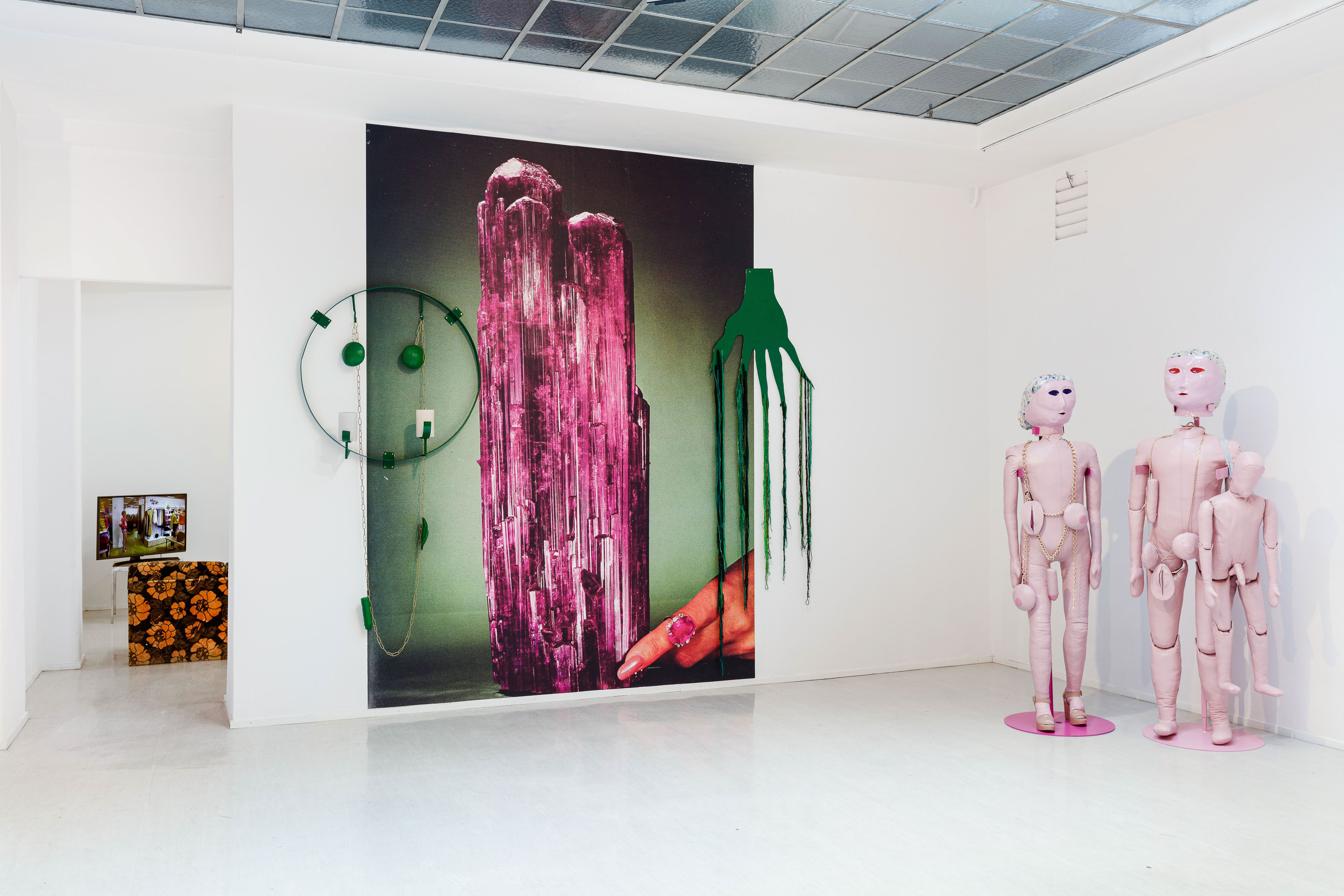 Photos: mumok, Lisa Rastl, 2017 / 03+04 Georg Kargl Fine Arts, kunst-dokumentation.com, 2020 / Lentos, 2020 / The Museum of Art and History (MAH), Julien Gremaud, 2021 / Curated By, Galerie Crone, 2020 / 15th Biennale de Lyon, Blaise Adilon, 2019 / Kunsthaus Bregenz, Markus Tretter, 2020 / Jakob Lena Knebl + Ashley Hans Scheirl, Christian Benesch, 2022

"How did you fall in love with Jakob Lena Knebl's work? Show me a strong piece you keep thinking about! Where can I see Jakob Lena Knebl's work atm / next?"

I precisely remember that moment, it was in 2017 in the mumok in Vienna. Back then it simply stunned me how incredibly Jakob Lena worked (with) and (re)arranged the mumok collection. A very unique way of intermixing artworks from the collection with her own works, all staged within this sublime site specific display of hers — where every present body would/could freely mingle.

Besides this first encounter, I must secretly admit that she undoubtedly hit a nerve inside me with her very special way of using exhibition spaces, (given) objects, materials and colours.

Actually there isn't "one work" I would want to mention here — I keep thinking about how she transforms (exhibition) spaces and every time leads the audience into new unknown (social) spheres. She makes me want to sit, lay down, spend time and linger around inside her installations.

You can see Jakob Lena together with Ashley Hans Scheirl at the 59th Biennale di Venezia in the Austrian Pavilion curated by Karola Kraus. I am beyond excited and can't wait to finally see their work there.


[Text: Daniela Grabosch, founder and editor in chief of YYYYMMDD]




GALLERYTALK.NET THINKS YOU SHOULD KNOW
MONIKA GRABUSCHNIGG:

Photos: Florian Denzin / David Schönen / Neven Allgeier / Miro Kuzmanovic / Anna Shtraus / Carbon12 / Carbon12 / Carbon12 / Dinis Santos

The first time I saw Monika's work was at Horse & Pony, one of my favorite art spaces in Berlin. There was a certain fountain. It was pink, it looked phallic, there were bubbles - I was smitten. Monika later won the Berlin Art Prize with it. Of course she did.

I will never get over Monika's "thinkers", a series of ceramic wall pieces from 2018 that is definitely not called "thinkers" (Monika comes up with exquisite titles for her artworks). It features figures seemingly thinking as they place their faces in the palms of their hands. I consider Monika a thinker, myself, too.

Monika Grabuschnigg is the master of grouping amorphous bodies on whatever material. She lights Crocs on fire. Her mind is so goth, her most recent ceramics deadly – or at least modeled after a toxic plant.

Especially in the last year Monika's practice has been a tour de force of imagining and building worlds, letting them sparkle and abandoning them before they even ran their course while never losing her signature aesthetic.

When Monika and I met, she could still be bothered to update her Instagram story from time to time (which is how we initially connected). Now, she deprives us of that joy. But that's okay. She's probably in the studio, phone in flight mode, cooking up the next big thing to blow our minds with. Or potatoes and vegetables. Or both.

Monika's works are on view at Carbon12, Dubai (until Feb 20).


[Text: Anna Meinecke, editor in chief of gallerytalk.net]




YYYYMMDD THINKS YOU SHOULD KNOW
BARBARA KAPUSTA:
Photos: Gianni Manhattan Publishing 2018 / Gianni Manhattan, 2017 / Material Art Fair, 2018 / Monday Gelato, Klemens Czurda, 2019 / Kunsthalle Praha, 2018 / Kunsthalle Wien, Jorit Aust, 2019 / Jesuitenfoyer, kunst-dokumentation.com, 2021 / Empathic Creatures, Videostill, 2018 / Halle für Kunst Steiermark, kunst-dokumentation.com, 2021

"How did you fall in love with Barbara Kapusta's work? Show me a strong piece you keep thinking about! Where can I see Barbara Kapusta's work atm / next?"

My very first intuitive thought: there is no specific moment in time I would point out here — with Barbara it is more about her practice in general. I am fascinated how she uses language, sound(s), voice(s), moving image(s) and objects — her works always direct me to a (somehow near) future and at the same time they root me firmly into our (present) now.

I still remember the first time I consciously encountered her work in an exhibition. It was at the inaugural show of the gallery Gianni Manhattan in Vienna and if I remember it correctly I went to the finissage where she read parts of her publication "The 8 and the Fist" — I guess that was the point where she fully got me.

As in general I am more drawn to an artists' entire practice rather than a specific work, particularly in Barbara's case I won't point out a singular piece.

Because something that is very special to me in Barbara's practice is that all her works are in a way interconnected between one another, all in constant flux. Morphing speech and bodies — techno-human, soft and rigid. Floating, possible scenarios of our future togetherness.

Barbara will be part of the group show Lo(l) – Embodied Language at Kunsthaus Hamburg in march 2022.


[Text: Daniela Grabosch, founder and editor in chief of YYYYMMDD]




GALLERYTALK.NET THINKS YOU SHOULD KNOW
NICHOLAS WARBURG:



Photos: Günther Dächert / privat / Courtesy the Artist & Galerie Anton Janizewski, Berlin. Photo Sascha Herrmann / Courtesy the Artist & Galerie Anton Janizewski, Berlin. Photo Sascha Herrmann / E. G. Powell / Wolfgang Günzel / Jakob Otter / Achim Kukulies / Courtesy the Artist & Galerie Anton Janizewski, Berlin. Photo Sascha Herrmann
Nicholas Warburg
lied to me before we had even spoken a word to each other. It might have been my fault. I'm a sucker for a good narrative. But through false stories Warburg tends to tell a truth or two. And isn't it kind of pleasant, too, to be brilliantly fucked over?
Warburg calls himself a Slytherin graduate and by Slytherin he means Städelschule. He looks better in a Proust portrait than Marcel Proust himself. You can re-furnish your apartment with his sculptures to make it look like Western Germany's wet dream.
"We must apologize for Nicholas Warburg. He is an idiot", reads his – let's call it a diptych. "We have purposely trained him wrong as joke."
Warburg doesn't shy away from supposed banality. Not that he can't bring nuance to the table. It may be served under a cloche, pose as a tear-off flyer, or present itself in the form of Aby Warburg's Bilderatlas Mnemosyne. Warburg's oeuvre is so full of references it can make you feel like you've never picked up a book before.
Nicholas Warburg is co-founder of Frankfurter Hauptschule and a member of Tannhäuserkreis. He can claim to be many things, but he can't deny he enjoys a little drama. The stage is his.
Nicholas Warburg is part of "ART GERMANIA MIAMI BEACH", organized by
Sprengel Museum Hannover
, alongside Jody Korbach and Nicolai Saur, opening Mar 5.
Frankfurter Hauptschule
is currently on view at
Neuer Aachener Kunstverein
, a Tannhäuserkreis exhibition opens Mar 18 at
Galerie Anton Janizewski
, Berlin.
[Text:
Anna Meinecke
, editor in chief of
gallerytalk.net]
YYYYMMDD THINKS YOU SHOULD KNOW
HANNAH ROWAN:
Photos: 02+03 Belo Campo, Photodocumenta, 2020 / Assembly Point, Ben Westoby, 2019 / Anatomy of Ice, Videostill, 2020 / 06+07 White Crypt, Rob Harris, 2018 / Well Projects, Rosy Carr, 2019 / Enclave Lab, Jedrek Filus, 2018 / Hot Desque, Terrestrial Act (film), 2021/22
"How did you fall in love with
Hannah Rowan
's work? Show me a strong piece you keep thinking about! Where can I see Hannah Rowan's work atm / next?"
I never saw Hannah's work in a physical space — in fact I solely encountered her virtually on one of my never ending Instagram scrolls during pandemic. I remember that I was immediately taken by her exhibition Triple Point curated by
Alice Bonnot
at
Belo Campo
in 2020. Those melting sculptures: mind-blowing.
Since then I desperately hope that one day I get the chance to see her works in person and be with them in one room.
I imagine smells, different physical conditions, materialities and very slowly changing (organic) structures. Her works look like re-embodied (natural) systems that irresistibly transform themselves over time. And they truly force me to think (even more) about scenarios for our future.
As I am still at the beginning of diving into Hannah's practice, at that point in time I don't want to mention any specific work of hers but rather show some pieces that made me want to know what she will be working on in the future — and I strongly recommend you to do that too.
You will be able to catch her works in the group show Still Waters Run Deep from June to August 2022 at
Nieuw Dakota
in Amsterdam. That exhibition might give me a real change to go there and see her work
[Text:
Daniela Grabosch
, founder and editor in chief of
YYYYMMDD
]
GALLERYTALK.NET THINKS YOU SHOULD KNOW
SOPHIA SÜSSMILCH: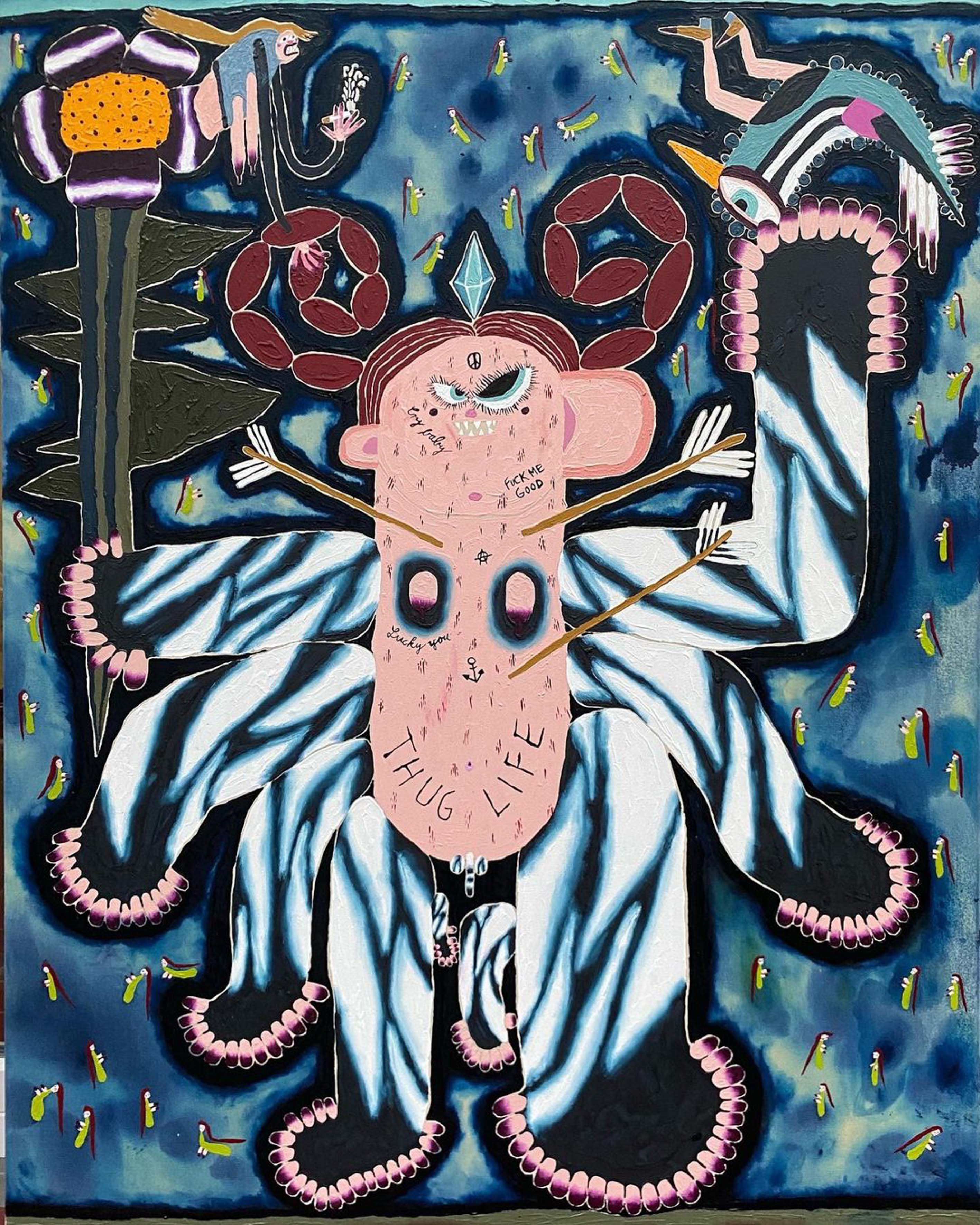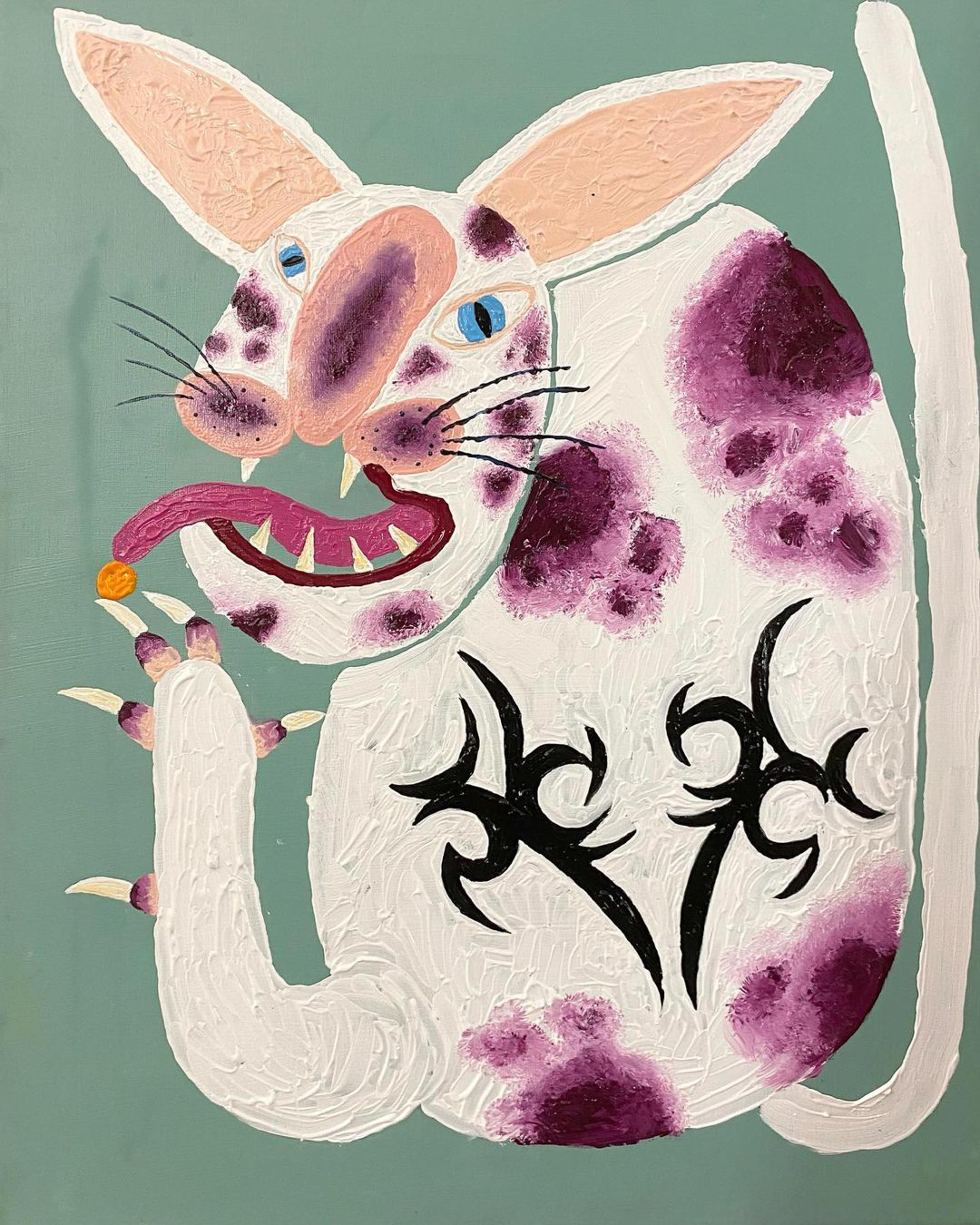 Photos: 2 Tamara Lorenz / 3&5 Sophia Süßmilch / 9 Lola Runge / rest: courtesy of the artist and Galerie Petra Martinetz
Ever since feminism became an Instagram aesthetic, saggy boobs made a comeback in visual culture. No one does them better than
Sophia Süßmilch
. 2 meters long, made from paper mache or ceramic pieces so small you can place them in the palm of your hand. I always thought that was funny. Sophia would rather not make a big deal about it – after all, it's just breasts she'd say.
I cannot not recommend Sophia Süßmilch. I've been an internet fan of hers long before we met in person – a story, I've heard many others tell ever since we became friends. She's uninhibitedly spectacular, no false sense of modesty. And I'm not just commenting on her performing naked a lot. That, too, of course.
Sophia has a twisted sense of humor. She'll unabashedly express both her love for or her disinterest in you. Her obsession with detail is so well reflected in her paintings that looking at just one can turn into a whole experience.
Who shoved the ice cream into the whale's forehead? What does St. Sebastian do with 135 fingers? And since when do cats sport tribal tattoos?
Sophia Süßmilch hates writing but writes the most wonderful texts. She insists on preparing the ultimate burrata dish, rightfully so. She will serve you cake and force you to hydrate. She will get up mid-conversation to add one or to brush strokes to a painting she's currently working on. Sophia's never not making something up. Yet, she will always be ultimately present in the moment.
Sophia is currently part of group shows at
G2 Kunsthalle
, Leipzig (until Feb 20) and
Waldburger Wouters
, Brussels (until Feb 20). Once a month, she performs "Toter Salon" at
Volksbühne
, Berlin. Her trio show "Kappa Kappa Cringe" with Jody Korbach & Nouchka Wolf opens Mar 19 at
Galerie Martinetz
.
©YYYYMMDD 2021 All content and design by Daniela Grabosch + Ricardo Almeida Roque unless otherwise stated. Images, Videos and Texts can only be used under permission of the author(s).